Gintaras Januševičius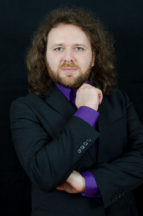 Gintaras Januševičius rose to fame in May 2004, after the performance at the Montreal International Musical Competition – his interpretation of Études-Tableaux Op. 39 by Rachmaninoff was publicly praised by pianists Jean-Philippe Collard, Akiko Ebi, Michel Dalberto.
Gintaras Januševičius was a prize winner and finalist of fifteen musical competitions all over the world. He appeared at numerous festivals, including the Chopin Festival in Duszniki-Zdroj, Mozartfest Würzburg, Festival Besançon, Dresdner Musikfestspiele etc. alongside Jörg Widmann, Leonid Gorokhov, Ekaterina Mechetina, Alexey Gorlatch, Elsbeth Moser. His recitals include numerous appearances in most major cities of Lithuania and Germany as well as New York, Washington, Rio de Janeiro, Shenzhen, London, Paris, Moscow, Madrid, Rome, Vienna, Barcelona, Stockholm, Tel Aviv, Warsaw, Zurich, Tallinn and others.
He performed with respected orchestras, including the Orchestra Symphonique de Montreal, the Moscow Symphony Orchestra, the Shenzhen Symphony Orchestra, the Lithuanian National Symphonic Orchestra, the Lithuanian State Symphonic Orchestra, the Moldova State Symphony Orchestra, the Lithuanian Chamber Orchestra and others.
Simultaneously to the active artistic output, Gintaras Januševičius shares his knowledge and experience in his master classes in Japan, China, Brazil, Switzerland, Germany, United Kingdom, Moldova, Romania, Israel, Spain, Italy, Estonia, Latvia and Lithuania. He recently started collaborating with the Royal Academy of Music in London as a guest lecturer.
In 2008 Gintaras Januševičius created highly successful concert series Plathner's Eleven and served as its artistic director until 2015. He serves now as the artistic director of music competition Die Hannoversche Börse der Musiktalente and piano competition Einbecker Klavierfrühling. In 2017 he founded two successful piano academies – winter piano academy Feuerwerk in Germany and summer piano academy the Klaipėda Piano Masters in Lithuania.
More information available at www.janusevicius.com